Ministries, agencies and localities have been ordered to assess achievements and shortcomings in the fight against corruption in an effort to create a breakthrough in 2008.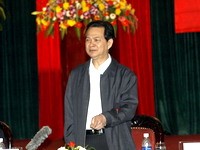 Vietnamese Prime Minister Nguyen Tan Dung
Prime Minister Nguyen Tan Dung, who is Head of the Central Steering Committee for Anti-corruption, made the request at a conference on the issue held for 32 northern provinces and cities in Ha Noi on December 22.
The government leader asked the committee's office to gather opinions raised by participants to work out more suitable policies, thus improving the work efficiency.
Ministers and chairpersons of the provincial People's Committees [local governments] must directly instruct the dissemination of information on anti-corruption laws and policies to every official and Party member, he said.
PM Dung highlighted measures to be implemented by the government next year, noting that corruption prevention and combat is one of the most important tasks.
The PM stressed relevant ministries and agencies should join hands with the government in perfecting policies and administrative procedures in land management, infrastructure construction, project management, budget spending and asset management.
Reports presented by the Central Steering Committee for Anti-corruption showed that a total of 584 acts of corruption involving 1,299 people were uncovered this year. The cases caused losses totaling VND865.35 billion (roughly US$54 million).
Of those, 360 cases with 843 defendants were brought to court, while 75 other cases involving 135 persons are undergoing legal proceedings, the conference heard.
The reports pointed out difficulties faced by relevant agencies in discovering and addressing acts of corruption as they have become more complicated and occurred in a large scale and almost all areas.
The Central Steering Committee for Anti-corruption also put forth eight major solutions for 2008, focusing on raising public awareness, improving institutions, and increasing the inspection work.