Prime Minister Phan Van Khai has approved the energy saving program in the 2006-2010 period.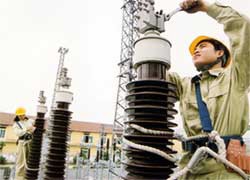 Power saving equipment is needed for cutting energy bills
Mr. Khai ordered offices to use only fluorescent lamps, compact lamps instead of bulbs, which consume much more energy.
State-run enterprises and organizations are asked to quickly cut their heating, lighting and power bills by 10%, take full advantage of nature light and winds, switch off the electric devices when unnecessary.
Public lighting systems must be re-organized appropriately so that the number of lights could be cut down by half in public places like corridors, yards, gardens, etc.
Air conditioners must be used only when really necessary, and be set over 25 degrees Celcius.
Individuals are encouraged to use power saving devices and other sources of energy like gas and renewal energies.
Around 40 percent of major energy-using enterprises must be outfitted with equipment to manage energy saving between now and 2010.
Electricity of Viet Nam (EVN) is required to cut the rate of energy loss down to 11 percent in 2006, and to 9 percent in 2010.
Prime Minister Phan Van Khai has approved the National Target Program for saving electricity in the 2006-2015 period.
In the program, around 5 percent and 8 percent of the national energy consumption must be shaved off the bills in the 2006-2010 period and the 2011-2015 period, respectively.