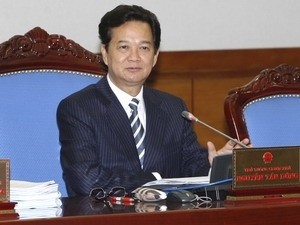 Prime Minister Nguyen Tan Dung speaks at a government regular meeting in Hanoi June 1, 2010 (Photo: Vietnam News Agency)
Ministries, sectors and localities must take comprehensive measures to control price hikes and closely monitor growing prices of land and houses, said Prime Minister Nguyen Tan Dung.
PM Dung delivered the request at the government's regular meeting which was held in the capital city of Hanoi on June 1.
The leader pointed out a number of major solutions for the second half of this year to foster socio-economic development, including the adoption of mechanisms and policies to remove difficulties hindering production and business activities.
The Ministry of Industry and Trade and the electricity sector need to work together to ensure sufficient power for production and people's life, he said.
PM Dung asked the State Bank of Vietnam to instruct commercial banks to implement measures to reduce deposit and lending interest rates, and make appropriate adjustment of the exchange rates between the Vietnamese dong and foreign currencies.
He emphasized the necessity to speed up the disbursement of investments, especially capital sourced from the state budget, government bonds and development investment credits.
The PM also urged ministries and localities to better perform policies related to social security and welfare, particularly for families of war invalids, fallen combatants and revolutionary veterans, as well as those aimed at eradicating poverty in the country's poorest 62 districts.
Regarding the nation's public debts that have attracted public concerns, PM Dung stressed that Vietnam's public debts are absolutely under control.
At the one-day meeting, the cabinet members spent much time on discussing the nation's socio-economic development in May and in the first five months of 2010, as well as major tasks and solutions needed for the rest of the year.
The government also debated and gave opinions to a report on impacts of Vietnam's three-year accession to the World Trade Organization.