Prime Minister Nguyen Tan Dung has set up a committee to oversee protection of the Dong Nai River Basin environment through 2020.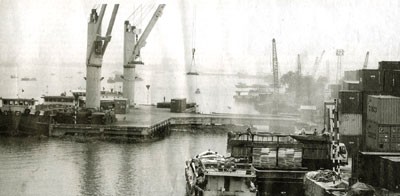 A busy river port seen from the Dong Nai Bridge. Increasing pollution and saline intrusion in the Dong Nai River cause concerns about sustainable development for the industries that benefit from the river. (Photo VNN)
The Southern Institute of Water Resources Research has outlined a set of measures for the Dong Nai River Basin Protection Committee -- to comprise authorities from 12 provinces and cities along the river -- to protect the Dong Nai from pollution.
The river is polluted by wastewater from millions of households and thousands of factories.
The committee will monitor human impact on the river's environment and ensure new factories use clean technologies.
 
Mr. Dung has appointed the Ho Chi Minh City People's Committee chairman as the chairman of the committee for the inaugural term of three years.
Subsequently, the revolving chairmanship will go to the leaders of the 12 provinces and cities for two-year terms.