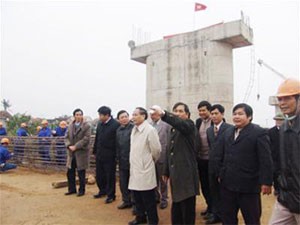 A working team including provincial officials check up on work on the Quang Hai Bridge over the Gianh River in Dec. 2008 (Photo: Tien Phong)
Prime Minister Nguyen Tan Dung has called for self-criticism and disciplinary action against himself from the chairman of the Quang Binh Province People's Committee for the deadly ferry accident that occurred Jan. 25 on the Gianh River.
In a dispatch February 3 he also told the chairman, Phan Lam Phuong, to take disciplinary action against the leaders of Quang Trach District and Quang Hai Commune, where the accident took place.
He told provincial authorities to expedite construction of the Quang Hai Bridge over the river, completing it in the second quarter of this year.
An overloaded ferry sank in the Gianh in Quang Hai on Jan. 25, claiming the lives of 42 people, mostly women and children.