Prime Minister Nguyen Tan Dung proposed his cabinet structure for the 2011-16 term at Monday morning's meeting of the 13th National Assembly.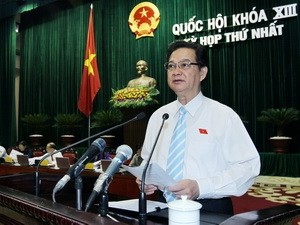 Vietnamese Prime Minister Nguyen Tan Dung proposes the Government structure during the National Assembly meeting (Vietnam News Agency photo)
Dung said that the Government's results in the last term had demonstrated that the current line-up of 18 ministries and four ministerial-level agencies was desirable.
The resulting cabinet would have 27 members, with the positions of deputy prime ministers and the various ministers expected to be nominated Tuesday.
Dung affirmed that the Government would quickly define the goals for ministries and agencies.
The Government will be composed of the ministries of National Defence, Public Security, Foreign Affairs, Home Affairs, Justice, Planning and Investment, Finance, Industry and Trade, Agriculture and Rural Development, Transport, Construction, Natural Resources and Environment, Information and Communications, Labour, Invalids and Social Affairs, Culture, Sports and Tourism, Science and Technology, Education and Training, and Health.
The four ministerial-level agencies include the Committee for Ethnic Minority Affairs, the State Bank of Vietnam, the Government Office and the Government Inspectorate.
The Government would also directly manage eight independent agencies, including the Vietnam News Agency, Vietnam Television, and Voice of Vietnam radio.
The proposal has received the approval of the National Assembly Law Committee. Newly-elected committee chairman Phan Trung Ly said the Government structure had been streamlined to avoid overlap among ministries and better managing the nation's affairs.
He urged further streamlining, however, after lawmakers have comprehensively reviewed the Government's accomplishments in the last term and proposed amendments to the 1992 Constitution.
Also Monday, newly-elected National Assembly Chairman Nguyen Sinh Hung nominated Dinh Tien Dung, member of the Party Central Committee and secretary of the northern province of Ninh Binh's Party Committee as the new Chief State Auditor. The National Assembly will vote on the proposal Wednesday.