Prime Minister Nguyễn Xuân Phúc has urged authorities in the Tây Nguyên (Central Highlands) to focus on socio-economic development and improve living conditions for local people.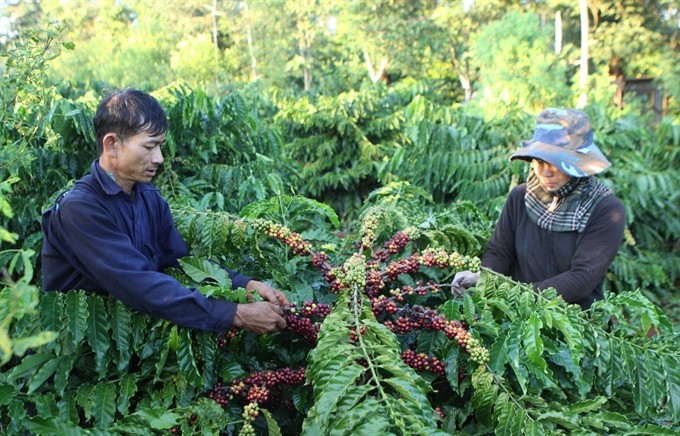 Farmers in the Tây Nguyên (Central Highlands) province of Đắk Lắk's Krông Pắk District harvest coffee. (Photo: VNA/VNS)
Speaking at a working session with the Tây Nguyên Steering Committee in Đắk Lắk Province's Buôn Ma Thuột City yesterday, PM Phúc said local authorities should pay more attention to the management of land, water and forest resources.
"It is necessary to create favourable conditions for local people to have land for stable living and cultivation in Tây Nguyên," he said.
The Government leader added that it was crucial to restore forests in Tây Nguyên and keep the region green.
He also urged local authorities to ensure social security and order, which would be the concrete foundation for sustainable development.
The PM suggested that the steering committee create conditions for business development and take advantage of the region's potential.
"The steering committee and localities should focus on training and fostering cadres for the region's development," Phúc said.
Deputy head of the Tây Nguyên Steering Committee Trần Việt Hùng reported to the PM on recent developments in the region.
He said that the committee had outlined infrastructure improvements as the key task in the coming time.
The system of national highways and provincial roads in the region served residents' interests, but had yet to serve the region's economic development, Hùng said.
The steering committee also suggested adding the construction of small hydro-power plants to the national programme on building new-style rural areas to help cope with climate change.
On the same day, Prime Minister Phúc visited and presented gifts to ethnic people in HĐơk Village in Eakao Commune.
Other meetings
Earlier on Saturday, the Prime Minister received local authorities from Trà Vinh and Bến Tre provinces at separate meetings in Hà Nội.
Speaking with a Trà Vinh provincial official, he said that the best way for the province to fulfil its socio-economic tasks in the next few years would be to foster economic restructuring in an extensive, practical and effective manner.
He applauded the Mekong Delta province's development efforts in the first half of 2016, when it was severely affected by saltwater intrusion and unfavourable global and domestic economic conditions.
However, he pointed to Trà Vinh's weaknesses, such as the modest number of businesses, slow economic restructuring and underdeveloped infrastructure. As the Government has no plan to adjust socio-economic development targets for this year, the province should take every measure to address difficulties facing local residents and businesses, he said.
It must try to improve the business environment and support enterprises' operations, the PM said, adding that Trà Vinh also needed to step up the construction of new-style rural areas.
He asked concerned agencies to help the province cope with short- and long-term problems. They should soon carry out infrastructure projects to enhance the province's ability to respond to saline encroachment and climate change.
Trà Vinh, a coastal locality in the southeast of the Mekong Delta, relies mostly on agricultural and sea-based economic activities. It is still a low-income province with a large number of ethnic minority people.
The recent drought and saltwater intrusion have affected 29,067ha of rice in Trà Vinh, while 18,770 rural families have lacked water for daily use.
From January to June, the province's gross regional domestic product grew by 6.26 per cent, lower than the 11-12 per cent target, including declines of 12.8 per cent and 10.12 per cent in agriculture and aquaculture. However, industrial production there rose by 98.9 per cent, construction by 10.89 percent and services by 4.32 per cent.
Meeting Bến Tre officials the same day, the Prime Minister said he supported the idea of building a startup ecosystem.

The PM said this novel mindset would contribute to reducing poverty, improving management in State-run agencies, and supporting farmers and entrepreneurs.

A startup ecosystem is formed by people, startups in their various stages and different types of organisations in a location, interacting as a system to create new startup companies.
The PM extolled Bến Tre for proactively enacting measures to cope with saltwater intrusion and ensure social welfare.
He suggested that the province promote the spirit of innovation in management and concentrate financial resources on tackling barriers to local development goals and improving local living standards.
It was important to boost the application of science and technology in farming and raise public awareness of integrating economic development with climate change adaptation, he added.
The Government leader asked the locality to diversify and mobilise capital resources to build climate change-adaptive facilities, as well as prioritise investment in transport, irrigation and water resources projects to ensure sustainable development.
Addressing the event, Deputy PM Trịnh Đình Dũng suggested Bến Tre review its planning scheme in line with that of the Mekong Delta, focusing on transport infrastructure development and economic restructuring in accordance with the provincial and regional climate change strategy.
He urged the province to improve roads and waterways while developing a seaport system to develop industry and marine transport.
The province should develop its land fund as a primary factor to appeal for investment, he said, adding it should balance financial resources, select suitable investment models and prioritise build-operate-transfer (BOT) projects to yield higher efficiency.
With a 65km coastline and favourable infrastructure network, Bến Tre boasts strengths in aquaculture and rice production. It also connects the Mekong Delta with the southern key economic zone.
Like other Mekong Delta localities, Bến Tre had to bear the brunt of the severe saltwater intrusion in the first half of 2016. The total economic loss was estimated at VNĐ1.5 trillion (US$67.5 million). In addition, more than 20,000ha of rice and over 4,000ha of fruit were damaged.
In January-June, the gross regional domestic product (GRDP) increased by only 2.68 per cent against the same period last year, failing to reach its target of 6.5 per cent and recording the lowest growth over the past few years.