Prime Minister Nguyen Tan Dung visited the northeastern coastal province of Quang Ninh Monday to inspect the construction of an industrial zone project and monitor the progress made in various tasks in the Mong Cai border-gate economic zone.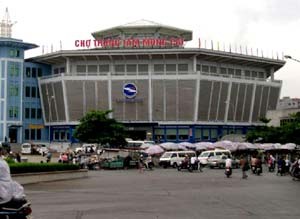 Mong Cai Market in Mong Cai District
Quang Ninh province leaders reported to the PM, bringing him up-to-date on the general development plan of a number of projects, as well as the construction of other industrial zones in Van Don, Hai Ha, Mong Cai and Yen Hung districts.
They also asked the PM for advice regarding mechanisms to stimulate foreign investment in these projects, particularly the construction of an airport in Van Don and the industrial zone and seaport in Hai Ha.
During a working session, representatives of investors asked the PM to grant permission for the construction of a 300m harbor, a dry-dock, a steel rolling mill, a coal-fired thermoelectric plant and additional infrastructure facilities requiring total investment of approximately US$1.4 billion.
Working alongside the leaders of Mong Cai city, the PM praised the city for its successes in socio-economic development, defence and security maintenance, as well as in improving the levels of friendship and cooperation between Vietnamese and Chinese border localities.
The PM said he hoped that Mong Cai, located on the trans-Asia road and an important gateway to China and other ASEAN countries, would work to maximize its potentials and strengths to develop the city, ensuring it lives up to the promise offered by its important position in the country's northeastern border area.
PM Dung stressed that Hai Ha possesses all of the conditions for the establishment of an IZ, adding that it is necessary to invest in the Hai Ha seaport in accordance with the northern economic region's "two corridors and one belt" economic development cooperation strategy.
The Hai Ha industrial centre and seaport will not only contribute to domestic socio-economic development, but also enable increased cooperation with China, the PM said. He noted that, within the next 10 years, Hai Ha will become an industrial, trade, tourist and service centre for Quang Ninh and the rest of the country.
He agreed with the Quang Ninh officials' proposal to provide preferential loans for the Hai Ha IZ and seaport project, as well as for the construction of Van Don Airport.