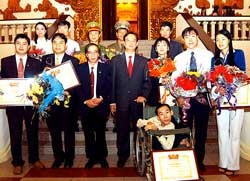 PM Nguyen Tan Dung (C) and the ten outstanding young contributors
The Party and State always highly value contributions by the youth and believe in the younger generations, Prime Minister Nguyen Tan Dung affirmed at the Viet Nam Youth Talent Fund awards ceremony, where ten outstanding young people were awarded for their outstanding contributions to the country's national development during 2006 in Ha Noi yesterday.
Addressing the ceremony, PM Dung said he valued the contribution that the youth make to the country; however they must make increasing efforts to meet the demands of national integration and development. He urged them to continue their efforts in becoming the country's science and technology innovators and socio-economic leaders of tomorrow.
The Prime Minister stressed that young people play a special role in constructing the nation and praised their talents and ability to quickly adapt themselves to new situations and take on new tasks, together with the Party, state and people, to build a strong Viet Nam in the new era.
The top ten young people of 2006, named by the Ho Chi Minh Communist Youth Union for their accomplishments in academics and work, have made achievements in the fields of security and national defense, sport, business, social development and culture-art.
At a meeting held in Ha Noi on the same day, State President Nguyen Minh Triet and seven government ministers joined a dialogue with about 700 youths to discuss post-WTO opportunities, youth ideals, and national development.