Prime Minister Nguyen Tan Dung has called on ministries and local agencies to make concerted efforts to prevent a recession, boost production of goods and supply, and ensure a stable market during Tet (Lunar New Year) next month.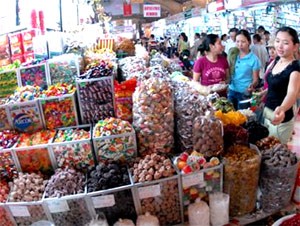 Shoppers at Ho Chi Minh City's Ben Thanh Market during Tet last year
He wanted producers to forecast demand to ensure adequate supply before, during and after the festival.
 
He instructed market agencies to keep a close eye on things to prevent smuggling and keep out fakes and illegal goods.
 
He said supply and prices of essential goods like fuel, food and vegetables should be stable and transactions at wholesale and other markets conducted at fixed prices.
 
He wanted ministries and local agencies to assist producers with getting credit and take measures to stimulate consumption.
 
He told the Ministry of Industry and Trade to thoroughly implement the Government's measures to boost exports, reduce the trade gap, and encourage consumption.
 
He also told the ministry to procure 500,000-600,000 tons of rice and help exporters sign large contracts.