Police are not to blame for the unexpected drowning deaths of five people in northern Viet Nam's Ha Tay Province during a raid on a gambling den on 9 December, claimed a senior police official.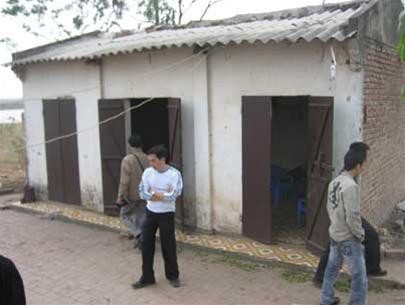 The gambling den belonging to the The-Ban couple in Ha Tay bordering Ha Noi
Senior Lieutenant-Colonel Vu Viet Phang, chief of the team investigating the deaths, said the gamblers' attempt to flee and their subsequent drowning in a nearby lake were unexpected and unpredictable. They were gambling for money [which is a crime in Viet Nam] when police swooped in and caught them red-handed.
The raid, carried out by the central police, had been in accordance with procedures, he added.
Over 70 officers raided a farmhouse in Tam Hiep Commune but before 56 people were arrested, dozens had jumped into the lake, five of whom had drowned.
Locals living nearby claimed that some policemen did not try their best to save them when they were drowning. Some even suspected that the police beat the gamblers before they jumped, making them unable to swim.
Phang denied these claims, saying "we did not use guns or electric clubs on the gamblers, and up to 10 policemen used flashlights to look for the jumpers".
In addition, Lieutenant-Colonel Nguyen Van Cuong, of the Ha Tay provincial police force said that forensic experts from the police force and the Ministry of Health confirmed that the five had suffered no external injuries, indicating they had not been beaten before they drowned.
As for the allegation that the police did not try to save them, Nguyen Duc Hung, of the Ministry of Public Security said that his 52-strong team had managed to save 8. Another 14 were saved by locals.
So far, police have sought indictments against the 21 involved in the case for gambling. However, the gambling den owner Nguyen Dinh The and his wife, Hoang Thi Ban, have escaped. The five deceased men were Nguyen Van Manh, Tang Huu Huan, Vu Van Can, Nguyen Huu Tam, and Khuat Ngoc Tuan.