Police in the central province of Quang Nam are investigating the deaths of three gold-diggers due to suffocation at an illegal mine in Phuoc Hoa Commune in Phuoc Son District, said lieutenant-colonel Nguyen Gioi, deputy chief of district police, on April 11.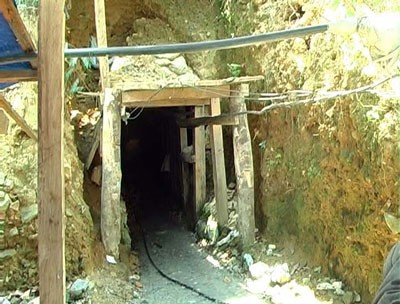 The mine where three unlucky gold diggers died of suffocation (Photo: SGGP)
Residents of Phuoc Hoa Commune said a group of people from the northern province of Thai Nguyen had arrived in recent days to extract gold from the mine. The group was led by two men, Tien and Khanh.

While digging below the ground in a pit, their gas compressor broke and three members of the group choked from inhalation, with two of them being residents of Trai Cau Commune in Phu Binh District of Thai Nguyen Province.
The group quietly and discreetly took the victims to their hometown for burial, instead of informing the local authorities.
When police officials in the district learnt of this incident and went to investigate, all the men had decamped from the mine and only some burning incense was all that was left behind by the gold-diggers.
Phuoc Son District in Quang Nam Province has become the latest target for illegal gold digging, and has also recorded a number of deaths in the ensuing years.