The Investigation Police is further probing into the cause of the fire that gutted stalls in Dong Hoi Market, the biggest market in the central province of Quang Binh, on April 2.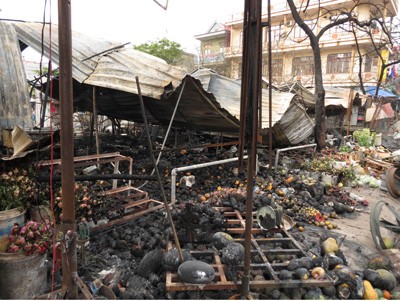 Fruit and vegetable kiosks gutted in the fire in Dong Hoi Market on April 2 (Photo: SGGP)
The blaze broke out at a fruit and vegetable stall in Dong Hoi Market in Dong Hoi City, and quickly spread to 10 kiosks, gutting them all down.
Traders extinguished the fire manually in one hour, because the city fire brigade arrived late and the fire-hydrant failed to function. The total cost of damages from the fire are estimated around VND2 billion (US$ 96,000).
Traders exclude the initial theory and presumption that the fire was caused by an electric short circuit, because they had assigned a person to turn off the circuit by the end of the day.
Moreover, other kiosks in the market could still light up on the morning of April 2, night after the fire. Therefore, it is impossible that the fire could have been caused by an electric short circuit.
On the other hand though, they suspect that the fire was caused by someone who wanted to settle a score with some traders. Possibly someone was jealous of the traders doing a brisk business.
Speaking to a SGGP reporter, Tran Cong Thuat, City party committee secretary, said that authorities will probe the cause of the fire, and also provide full support to the affected traders.