Police have decided to prosecute a prankster over a false bomb alarm on a Vietnam Airlines plane more than two months ago.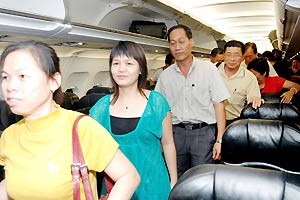 Passengers evacuate a Vietnam Airlines plane during the bomb scare on August 18
Senior Lieutenant Nguyen Duc Chung, deputy head of the Ha Noi Investigation Police, said on Tuesday that Nguyen Thai Son, born in 1973, would be charged with causing a flight to be delayed.
On August 18, the employee of the Hoa Phat Steel Pipe Company was waiting to take off from Ha Noi on a plane bound for Khanh Hoa when he joked to a companion that he was carrying a bomb in his bag.
Frantic airport staff delayed the flight to make a thorough search of all baggage but failed to find any bomb.
The incident left passengers stranded for three hours and cost the airline plenty.
Police say Mr. Son was in full possession of his senses at the time.
There have been two other bomb hoaxes in the past six months, costing Vietnam Airlines hundreds of millions of dong each time and harming its reputation.