State Bank of Vietnam Governor Le Duc Thuy admitted on Wednesday that the new polymer banknotes contained "some flaws in some instances" but stressed that they were ten times harder to counterfeit than cotton paper bills.
Mr. Thuy was speaking at a meeting with reporters, who have been filling recent editions with stories about new currency bills that fade after being dropped in water or contain printing errors.
Viet Nam is the fourth country in the world to use polymer notes after Australia, New Zealand and Romania, in that order, he said, adding that countries using cotton paper were forever having to come up with new ways of countering the counterfeiters.
The polymer used in the new Vietnamese banknotes is supplied exclusively by Securency, an Australian company half-owned by the Reserve Bank of Australia.
Securency has already contracted to supply Vietnam's central bank with enough polymer to make five billion notes, so any changes in the polymer price will not affect Viet Nam.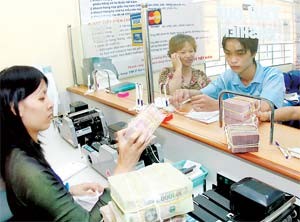 Huge wads of polymer bills at a Ho Chi Minh City bank (Photo: SGGP)
Regarding the reported problems with the polymer notes such as the ink coming through to the other side, Mr. Thuy said a 5% rate of flawed notes was acceptable and suggested the actual rate could be 7%, then proceeded to blame the quality-control employees at the national mint.
Asked whether 10 tons of ink for printing cotton notes had been mixed with 100 tons of ink for printing polymer notes, Mr. Thuy passed and left the question for Mr. Bui Cong Lu, director of the National Money Printing Factory, who confirmed that to have been the case.
"We did some testing, got approval and then worked under the supervision of the authorized agencies. The results were good, so we used the ink mixture to print polymer notes. It does not affect the quality of the money," Mr. Lu said.
Family link?
A reporter then quizzed Mr. Thuy about the role of BankTeck, whose deputy director is his son, since there is an allegation that the company was a go-between in the printing of the polymer bills.
         
"I affirmed before the National Assembly that BankTeck was not the intermediary in printing bills and minting coins, did not represent any foreign firms, and was not a go-between in importing materials and machinery for printing money," Mr. Thuy responded.
He added that all the relevant transactions have been made directly between authorized Vietnamese agencies and the suppliers.
"However, I asked the National Money Printing Factory to inform me of BankTeck's role and actions. I've heard reports that the company had won several tenders to supply the mint with common materials and chemicals."
"Taking them all together, the contracts signed since 2003 are worth VND635 million, while the cost of printing cash averages VND600 billion a year. BankTeck's involvement is a very small fraction of the whole," he added.