Poor households in the Binh Loi Commune in Binh Chanh District were offered cows and a no-interest loan.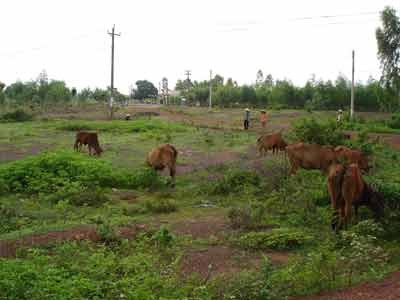 39 cows were given to poor farmers in Binh Chanh district (Photo:N.Anh)
Viet Nam Farmers Union and US-based Ngo Heifer on August 20 gave 39 cows to households who live at poverty line in the district. The aid was worth VND330 million (US$20,000).
In addition, each received a loan of VND1.3 million (US$78) without bank interest rate for making cow cages and planting grass.
Under a contract with the Union, farmers must give back a cow with the same weight with the given cow after three years so that the union will offer it to other poor farmers in the same district.
Previously, the union also presented 40 cows for poor farmers in the Long Phuoc Ward in District 9.
Mr. Nguyen Van Ranh, chairman of the Viet Nam's Farmer Union, said that 120 cows were presented to poor farmers in District 9, Binh Chanh, and Cu Chi.