Thanks to Nguyen Van Huong Scholarship, hundreds of medical students have fulfilled their dreams in education. Doctor Nguyen Hoai Phong, one of the scholarship students, is a lecturer at the Ho Chi Minh University of Medicine and Pharmacy.
The poor student dreamed of becoming a doctor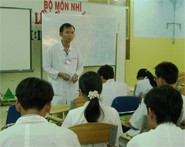 Dr. Phong is giving a lecture to medical students
Born in a poor and large farmer family, he experienced lots of difficulties. His family makes meager living on 1, 5 ha farm land with only about three tons of rice each crop. Lacking farm land, his parents and two older brothers went to develop the new land in Vinh Binh Commune, Vinh Hung District near Cambodia border. He, his older sister and a young brother stayed with his grandmother in Tan Tru district, Long An province because they are too young.
To help his grandmother out with the money, he gleaned rice, tended oxen and ducks, cut grass and transplanted rice seedlings. Whatever difficulties he encountered, he was always a good student in 12 successive years.
In 1994 he passed the entrance exam into two universities, the Ho Chi Minh City University and University of Medicine and Pharmacy. As the second-top candidate from the entrance exam into the Ho Chi Minh City University he could have been granted a scholarship to study abroad; however, he decided to study in the University of Medicine and Pharmacy for his dream of becoming a doctor to help people.
The Nguyen Van Huong scholarship fostered talents

Six-year tuition in the university was a big worry to him because he knew that his family couldn't afford it. However, he decided to seek a better future through learning as he did not accept the fate of the poorly educated.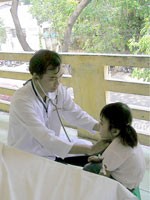 Dr. Phong examines his patient
As a student, he constantly experienced financial hardship. He didn't have enough money for food, let alone for books and others. His meals were poor and irregular. Despite difficulties, he managed to achieve good results with which he was granted Nguyen Van Huong scholarship in 1999.


He recalls, "The syllabus of the final year was so overloaded that I could not take part-time job any longer but at that time my mother was sick and the crop failed. I thought I had to give up my study. Fortunately, the scholarship came along and provided support to me with VND4 million in 1999 and 2000.

He finished the two last years and graduated with distinction. With the good result, he continued his further study as a pediatric intern. After three years' study, he became a lecturer at HCMC University of Medicine and Pharmacy.
The scholarship is not only a materilistic value but also an encouragement and joy to underprivileged students. More importantly, it has far-reaching social implication as the contribution by the scholarship recipients to the public health care can never be overestimated.

Related link:
Scholarship Fosters Medical Talents