Korea's Posco Construction Company and the Vietnamese corporation Vinaconex yesterday signed a contract for building a 10-lane expressway from Ha Noi's Lang Road to Hoa Lac in Ha Tay Province nearly 28 kilometers away.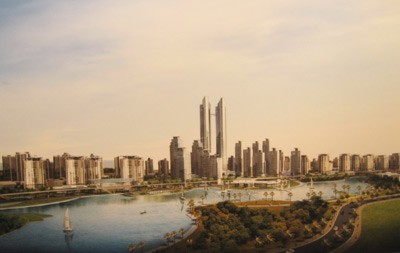 The model of Bac An Khanh new urban area
Called the Lang-Hoa Lac Highway, the US$350-million expressway will have six lanes for cars and heavier vehicles and four lanes for motorcycles and other two-wheelers.
The new road will connect the national capital and a 240-hectare town called Bac An Khanh to be built by Posco and Vinaconex starting in May 2007.
The centerpiece of the US$1.4-billion urban project, which includes building 7,600 apartments and free-standing houses, will be a 75-storey tower.