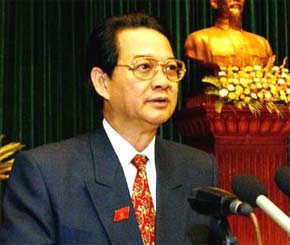 Prime Minister Nguyen Tan Dung
At a regular Government meeting on July 31 and August 1, the Vietnamese Prime Minister Nguyen Tan Dung urged the Government Office to complete its long list of guiding decrees on legal documents to accelerate the implementation of newly issued laws while at the same time expediting anti-corruption procedures.
The PM said that the decrees and guidelines of new legal documents must clarify the responsibilities of agencies and individuals.
At present, the Government has 154 un-drafted decrees on its "to issue" list, a buildup that has caused serious delays in implementing and enforcing new laws--such as the laws on investment--as the laws have no set guidelines or regulations as to how they should be carried out.
Also, at the recent meeting,  PM Dung called on all government ministers and people's committee heads of all the 64 provinces and cities to take swift action in the slew of corruption cases.
He urged all agencies concerned to carefully investigate and take radical steps to solve State misconduct problems.
The agencies are required to review all activities in which the State budget has been used improperly, for presents, receptions and parties, and such, as well as deal with the enforcement and penalties for such wrongdoings adequately.