The fatherland tasks must be always based on the people and for the people, said President Nguyen Minh Triet at a meeting held by the Viet Nam Fatherland Front on Wednesday in Ha Noi.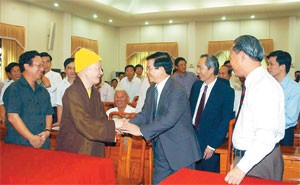 President Nguyen Minh Triet shakes hands with a representative at the VFF meeting on Aug 30

The Viet Nam Fatherland Front (VFF) held a meeting on Wednesday to celebrate the 61st anniversary of the August Revolution and the National Day (Sept. 2). Present at the meeting were President Nguyen Minh Triet and representatives from the VFF's member organizations.

President Nguyen Minh Triet and VFF Central Committee President Pham The Duyet recalled historical landmarks of the August Revolution during their speeches.

President Nguyen Minh Triet expressed his appreciation of the role of the VFF during the struggle for national independence as well as ongoing national development in Viet Nam.

President Triet stressed that the fatherland tasks must be always based on the people and for the people.

"During the resistance war, cadres and Party members seemed to have closer connection with the people than nowadays. So the question is how to bridge the gap to link Party members with the people", he said.

The President remarked that the VFF should carry out better its role as gathering and mobilizing the peolple as did during the Resistance; especially in the current period which requires that the intelligentsia's brainpower be effectively promoted. In addition to assembling people from all walks of life, he added, the VFF also needs to listen attentively to their opinions, even those of critical but constructive ideas for the national common interest,

The VFF Central Committee President, Pham The Duyet, said that the VFF is determined to implement all these tasks and is disseminating the Party' Resolutions and major policies to all the people, especially the policy of employing the people's great unity during this new stage of development.