The decision to award Vietnam's border force with the title of 'Hero of the People's Armed Forces' was made by President Nguyen Minh Triet February 20.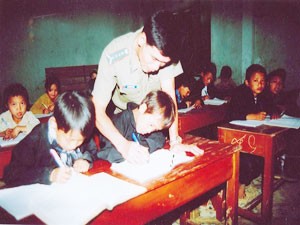 A border security soldier teaches children in northern province of Ha Giang
President Triet praised their achievements in the struggle to protect the border from 1998 to 2007.
The President asked the army's command to ensure that their officers and soldiers were aware of their importance.
President Triet also asked top brass to take good care of the soldiers and to insure they receive good treatment.
He asked border soldiers to continue displaying a glorious tradition, as well as build military strength and encourage them to develop, especially its naval service, and fulfill their duties of maintaining island security in all circumstances.