An exhibition on "President Ho Chi Minh and Russia through historical documents" was opened in Hanoi on November 6, aiming to highlight the 97th anniversary of the Russian October Revolution Day (on November 7) and the 65th anniversary of Vietnamese-Russian diplomatic ties in 2015.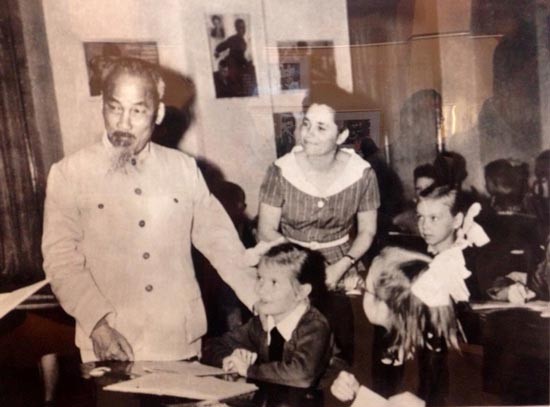 President Ho Chi Minh and children of officials of Russian  and Eastern European countries Embassies in Hanoi on February 9, 1962. (Photo: SGGP)
The exhibition attracted participation of crowded students and people in two countries.
More than 200 materials, photographs and artifacts about great achievement of President Ho Chi Minh City through historical periods are on display at the Ho Chi Minh Museum in Ha Noi.
 
The exhibition is designed three parts including the revolutionary activities of President Ho Chi Minh in Russia, friendship relation between Vietnam and Russia, and Russian people's emotion for President Ho Chi Minh.
Of these, the part one focuses on Nguyen Ai Quoc's revolutionary activities, life in France, the United States, United Kingdom and Russia in 1923, 1927, 1934.
The part two introduces to visitors about President Ho Chi Minh and Russia during the period he served as President of Democratic Republic of Vietnam from 1945 to 1969.
Meanwhile, the third part showed respect, emotion of Russian people towards the late President as well as the support of Russian leaders and people to build President Ho Chi Minh Mausoleum and friendship between two countries.