President Nguyen Minh Triet on Thursday joined families in Da Nang City and Quang Nam Province on the central coast in the Mid-Autumn Festival, a traditional festival for children in Viet Nam.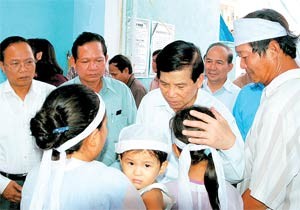 President Nguyen Minh Triet embraces children of a family with a member killed by the typhoon. (Photo: SGGP)
Da Nang, Quang Nam and other central provinces have been ravaged by typhoon Xangsane, which hit Viet Nam on October 1.
It was the first time that Da Nang children had ever celebrated the Mid-Autumn Festival with the President.
Mr. Triet handed out presents to children of the typhoon's victims, bringing to them a warm atmosphere after days with lots of suffering.
He praised Da Nang people's great efforts to overcome the consequences and wished children well at school, home as well as a cheerful Mid-Autumn Festival.
He also visited families of many typhoon victims to share their suffering and hardship, and ordered local authorities to promptly supply things necessary for the victims to live on, and to bring children back to schools as soon as possible.
The President encouraged Mrs Pham Thi Lien in Hoa Vang District, a woman whose older sister Pham Thi Thai died in her house that collapsed during the typhoon. He then moved to another family, burning incense Mrs for Pham Thi Huu who was killed in the storm, and encouraged her husband Ngo Van Thanh to continue caring for his children.
The leader ordered Da Nang authorities to prevent increases in prices of building materials because they are in high demand when local residents rebuild or repair their houses, which were destroyed or damaged by the typhoon.
In adjoining Quang Nam, Mr. Triet asked provincials officials to do all they can to overcome aftermath of the devastating storm.
"Quang Nam has to successfully host the APEC Tourism Ministers Meeting this October," he told Quang Nam authorities.