President Truong Tan Sang held a meeting in Hanoi on October 1 with outstanding businesswomen, on occasion of Vietnam Women's Innovation Day 2013.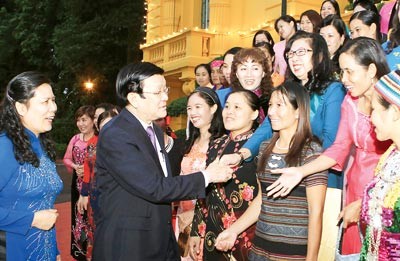 President Truong Tan Sang shakes hand outstanding businesswomen (Photo : SGGP)

On the occasion, Nguyen Thi Thanh Hoa, Chairwoman of Vietnam Women's Union, said women delegates from the union had made great contributions towards economic empowerment, improving household businesses, delivering products to markets, and creating jobs for locals.

Delegates at the meeting asked the Government and the Party to provide preferential financial support, resolve difficulties in commodity consumption, provide legal assistance and further training to help more women escape poverty, and increase economic independence.

President Sang lauded the contributions made by the businesswomen and affirmed that the Government and the Party has policies in place for the economic growth of women in particular and the organization in general.

The President hoped that Vietnam Women's Union would work with related agencies and commercial banks to resolve barriers quickly to improve the lives of women and their families and multiply good models of businesswomen.

On the same day, Nguyen Sinh Hung, Chairman of the National Assembly, received 57 excellent students who won prizes at the International Olympiads and other regional competitions and those who topped the university entrance examinations in 2013.

Of the 57 students, 17 came first in the university entrance examinations and the rest were International Olympiad winners.

Chairman Hung commended the education sector for making great efforts in improving and raising quality of teaching to train students in highly competitive International Olympiads.

The Chairman said that  that the Communist Party and the State of Vietnam always paid special attention to the development of education and training in order to support the nation's process of industrialization and modernization.