President Truong Tan Sang on March 20 met with 66 entrepreneurs and farmers with terrific achievements in agricultural production and new rural development under the Association of Agriculture and Rural Development.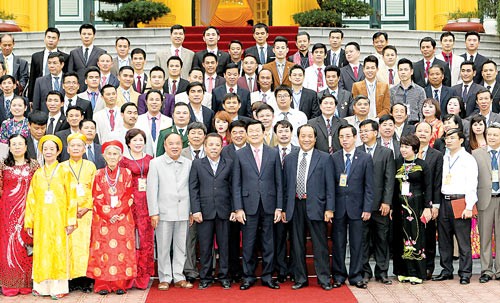 President Truong Tan Sang and delegates (Photo: SGGP)
Reporting to the President, chairman of the association Ho Xuan Hung said that the association has made great contributions to the country's agricultural development and the new rural development program.
The association has come into operation for two years with 60 scientific organizations, businesses and sub-associations and 1,916 individuals comprising scientists and entrepreneurs.
Many businesses have worked with scientists in science and technology application to help farmers develop production, limit environmental pollution, and increase labor productivity.
President Truong Tan Sang said that agricultural development has been the most outstanding achievement during 30 years of the country's innovation, contributing to stabilize food security and eliminate poverty. Agricultural businesses and farmers have a large part in this success.
He hoped that the association, the Ministry of Agricultural and Rural Development together with other authorized agencies will continue joining hands in creating new victories in the rural building and development cause.