President Truong Tan Sang on June 2 hosted a reception for the visiting US Secretary of Commerce Penny Pritzker who stated that the US is keen on boosting ties with Vietnam in all fields.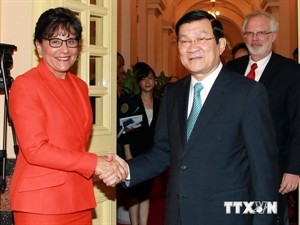 President Truong Tan Sang receives US Secretary of Commerce Penny Pritzker(Photo: VNA)
Pritzker said her visit aims to bolster bilateral affiliation, as part of efforts to concretise the comprehensive partnership that was set up during President Sang's visit to the US in July 2013.
With the new partnership, the two countries' cooperation has become stronger and closely associated with regional and global development, she noted.
The US official expressed her belief that bilateral trade and investment links will continue to grow, especially after the Trans-Pacific Partnership is signed and becomes effective.
Speaking highly of Vietnam's improvement of its investment environment, Pritzker said many US firms are interested in starting new businesses or expanding their current operations in the country.
Mentioning the East Sea issue, she reiterated the stance shared by the US Congress and Government that opposed China's unilateral and provocative move of positioning its oil rig deep in Vietnam's exclusive economic zone and continental shelf, sparking tensions in the East Sea.
She also voiced her support for the settlement of disputes through peaceful measures.
President Sang said the two countries have seen remarkable progress in their ties, especially economics, trade and investment, since they normalised their relations.
Last year, two-way trade reached nearly 30 billion USD, five times higher than that of 2005, with US investment in Vietnam rising steadily.
The two countries are looking forward to stronger affiliation on the back of the TPP, he said.
President Sang said he believes that with the support of Pritzker, the US-ASEAN Business Council, the cooperation of US businesses as well as Vietnam's ongoing administration reform, bilateral economic, trade and investment ties will become robust in the near future.
Vietnam and the US should work more closely to speed up the implementation of the joint statement signed in July, 2013, in which there were agreements on trade and investment, for their mutual benefits, and peace and stability in Asia-Pacific, he suggested.
He thanked the US Congress and Government for their strong objection against China's illegal placement of its oil rig deep in Vietnam's exclusive economic zone and continental shelf.
So far, the international community as well as the governments and researchers of many countries have raised their voice against China's provocative act, supported Vietnam's stance of settling disputes through peaceful methods on the basis of international law, including the 1982 United Nations Convention on the Law of the Sea, and condemned the use of force or threats to use force in handling disputes.
President Sang said he hopes the international community, including the US, will continue protesting China's recent move of sinking Vietnamese fishing boat and ramming into Vietnam Coast Guard ships, damaging property and threatening the lives of Vietnamese fishermen and law enforcement officials.
China has continued to use warships and military aircraft to disturb Vietnam's law enforcement operations, he said, stressing that China's activities are extremely dangerous and must be ended immediately in order to resume order in accordance with international law.
President Sang underscored that Vietnam always hopes to work with the parties concerned to soon seek a solution to restore stability, friendship and cooperation for the interest of the region and the world.