President Nguyen Minh Triet has asked the southernmost province of Ca Mau to focus on economic development, with priority on improving its transport infrastructure.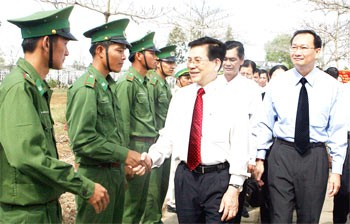 President Nguyen Minh Triet visits a border guard station in Ngoc Hien, the country's southernmost district, during a visit to Ca Mau Province February 23-24 (Photo: SGGP)
Speaking during a two-day visit to the province on February 23 and 24, he said Ca Mau is bestowed with many things required for development.
 
While capitalizing on its comparative advantage in raising, catching, and exporting aquatic produce, Ca Mau must develop its fisheries sector on an industrial scale and use advanced technologies, he said.
 
The recent start of a new domestic air service to the province is a key advantage in attracting investors, he said.
 
Mr. Triet praised the local Party Committee and people for their achievements last year.
 
Ca Mau's economy grew at 13.2 percent last year, exports were up 5 percent at US$641 million, the poverty rate was down to 9.7 percent against the national average of 13 percent, and income per capita was more than VND15 million (equal to the country's average).
 
To speed up development, however, he said the province should soon identify and resolve difficulties, adding transportation, education, health, and irrigation remain weak spots.
 
Ca Mau requires a further 1,639 bridges, while only 31 of its 81 communes are connected by roads.
 
A Ministry Planning and Investment official agreed to the province's request for more funds to build bridges and infrastructure.
 
President Triet agreed with Nguyen Tuan Khanh, the secretary of the province Party Committee, that measures need to be taken to prevent the 9,000 poor students in Ca Mau from dropping out of school because do not have money for boat fares.
 
"For the sake of our children's future and the country's development, we have to support them."
 
The province has 10,000 students who travel to school by boat paying VND100,000-300,000 a month.
 
Deputy Minister of Agriculture and Rural Development Diep Kinh Tan said the fisheries sector should focus on improving both the quality and volume of produce it exports.
 
Mr. Triet urged the provincial authorities to pay more attention to reform of the judicial system, closely monitoring it to make sure that trials comply with the laws.
 
He also visited Border Guard Station No.680 in Dat Mui Commune (the country's southernmost), Ngoc Hien District.
 
He called on some families in Ca Mau town who have made major contributions to the national cause.