President Truong Tan Sang yesterday arrived in An Giang Province in the Mekong Delta for a field trip to evaluate the process of local agricultural restructuring.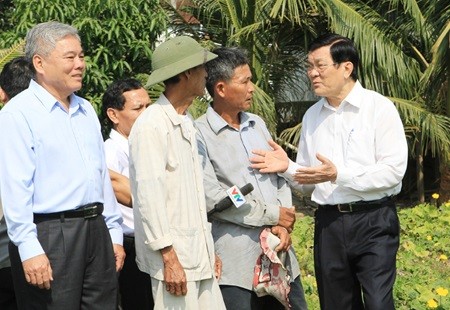 President Sang talks to farmers in An Giang Province. —VNA/VNS Photo Nguyen Khang
Visiting a high-yield paddy field in Tinh Bien District which has managed to employ a mechanisation rate of 100 per cent in agricultural production, he stressed the importance of agricultural restructuring as Vietnamese products are facing fierce competition during the regional and global integration process.
He told local farmers that low quality agricultural products must be replaced with more competitive goods.
Agriculture remained a focal point in the nation's development plan, so the sector must continue to move forward, he added.
Farmers should find ways to increase production and value of their products by gaining a better understanding of the market.
The President also held a meeting with the An Giang Fisheries Import Export JSC (Agifish) to discuss the company's business strategy.
He urged the company to apply new technology to improve production and value, and enhance its ability to compete in new markets while building a positive brand for Vietnamese fisheries products.
He also inspected the Tinh Bien Border Gate, which saw a total of US$111 million in cross-border trade last year with Cambodia.
He asked local authorities and agencies to step up efforts to support infrastructure development, improve living conditions and combat smuggling.
In a meeting with provincial leaders, Sang said that An Giang, as one of the Mekong Delta's four key economic zones, must develop its own flagship products.
The Ministry of Agriculture and Rural Development and other local agencies were told to carry out a through evaluation of the province's current agricultural products to effectively plan the restructuring process and deal with increased competition.
He said the province must invest in human resources and learn from successful development models in foreign countries.
During the trip, the President visited and extended his Lunar New Year wishes to Catholic dignitaries and followers at the Diocese of Long Xuyn.
There are 34,200ha of large-scale paddy fields in the province that have increased farmers' incomes by15-20 per cent last year. The province's five border towns have maintained a growth rate of 11 to 15 per cent annually, with a per capita income of VND 28-47 million ($1300-4200).