President Truong Tan Sang yesterday urged authorities in central Nghe An Province to accelerate economic restructuring to generate additional jobs and improve local incomes.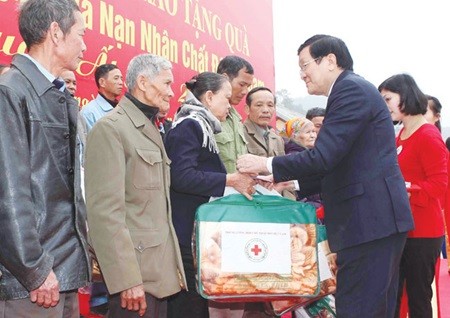 President Truong Tan Sang presents gifts to families from My Son and Nhan Son communes of Do Luong District in Nghe An Province.—VNA/VNS Photo Nguyen Khang
The President praised the efforts of the locality in providing rice and assistance for disadvantaged residents during the year.
He was speaking at a working session with the local Party Committee, authorities, and armed forces during a tour to the locality for Tet.
Sang praised the endeavour of local armed forces in cultivating political awareness for soldiers and officers and contributing to new-style rural area development.
He said that together with the Party and State, the armed forces made remarkable contributions to realising the country's socio-economic development goals.
Armed forces in Nghe An should remain prepared to handle social disorders, and promote external defence relations, he said.
President Sang presented Tet gifts to poor families and Agent Orange victims in the My Son and Nhan Son communes of Do Luong District.
District authorities presented 80 tonnes of rice and other gifts to welfare beneficiaries, needy families and disadvantaged children.