President Truong Tan Sang led a delegation to survey sea dyke systems in Tra Vinh and Soc Trang on March 2. These dykes will be re-enforced to prevent destruction from future landslides.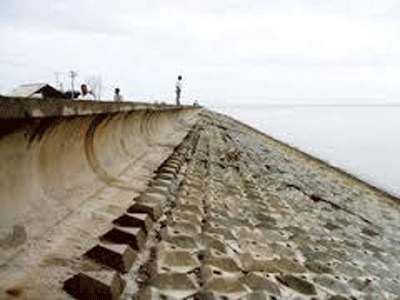 (Photo:VNA)
The Soc Trang and Tra Vinh areas experience storms, floods, floodtides and tidal waves that breach the dyke systems and cause damage.
The sea level rose 2.5 kilometers inland in the past 20 years causing loss of 6,000 hectares of coast in Duyen Hai District, Tra Vinh Province. The area lost 1,200 hectares of forest that previously prevented landslides.
Local authorities need to have immediate measures to deal with unpredictable weather due to climate change, said President Sang.
Dyke systems play an important role in preventing saltwater intrusion, floodtides, protecting property and development of coastal areas.
The President also surveyed dyke systems at coastal areas such as Hiep Thanh Monument, Long Hoa High school in Duyen Hai District, Tra Vinh province, An Thanh 3, An Thanh Nam Monument in Cu Lao Dung District, Soc Trang Province.
President Sang visited officers and soldiers of the Border Guards in Station 634 to celebrate the 55th Traditional Day of Border Guard Command and the 25th Whole People Border Day.
The President also checked the construction progress of the Duyen Hai Electric Power Centre and of the ships on the Hau River.