Vietnamese diplomatic offices abroad should take the initiative to disseminate information about the status of religion, democracy, and human rights in the country, President Nguyen Minh Triet told Vietnamese envoys at a reception in Ha Noi yesterday.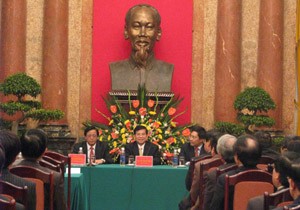 (Photo: gov.vn)
Speaking at the reception held on the sidelines of the ongoing 26th Diplomatic Conference, he said they should, in fact, regularly provide information on the policies of the Party and Government so that other countries get the right picture about Viet Nam.
He also told them to be flexible to create friendly and open relations with other countries.
At the eight day conference ending on the ninth, 112 ambassadors and heads of Vietnamese representative offices abroad are discussing ways to deploy foreign policy to ensure a peaceful and stable environment for the nation's industrialization and modernization.