As was part of the agenda during his official visit to Cambodia, State President Nguyen Minh Triet attended the Vietnam-Cambodia business forum where he called upon Vietnamese entrepreneurs to increase cooperation and investment with their Cambodian counterparts in the spirit of ensuring economic efficiency and in order to help Cambodia rapidly reduce poverty.
Cambodian Prime Minister Samdech Hunsen was also present at the meeting.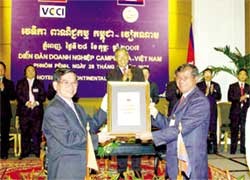 President Triet ( L ) hands over a donation of US$400,000 to the Cambodian Sports Committee
Both President Triet and PM Hunsen stressed that the two governments would strive to create the most favorable conditions for Vietnamese and Cambodian entrepreneurs to do business with one another, bringing prosperity to both nations.
The forum, held in Phnom Penh, was attended by over 300 businesses from the two countries.
Vietnam is now Cambodia's fourth biggest trading partner. Cambodia imported commodities worth US$780 million from Vietnam last year; mainly clothes, electrical cable, plastic household products, noodles and electrical spare parts.
Cambodia exported products worth around US$170 million to Vietnam; including rubber, wood, and raw materials for garments, tobacco and wooden products.
On this occasion, State President Triet handed over a donation of US$400,000 from Dong Luc Company to the Cambodian Sports Committee.
Before attending the business forum, Mr. Triet paid a courtesy visit to Cambodia's top Buddhist patriarch, Tep Vong. (More than 90 percent of the Cambodian population is Buddhists).
Patriarch Te Vong recalled the period when Cambodian people lived under the yoke of Khmer Rouge's Pol Pot genocidal regime; he expressed his deep gratitude to the government and people of Viet Nam for their great support and assistance as well as the Vietnamese voluntary soldiers for saving Cambodian people from the genocide and helping to revive Cambodian Buddhism.
As scheduled, Mr. Triet and his entourage will leave Phnom Penh today and return to Ha Noi via Siem Reap.