The Ho Chi Minh City's National Assembly delegation, including President Nguyen Minh Triet,on May 5 met voters in District 3, Ho Chi Minh City, to listen to their opinions and complaints.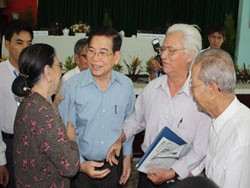 President Nguyen Minh Triet (second, L) talking with voters in District 3, HCM City on May 5 (Photo: Vietnamnet)
Many said that the government and ministries should soon publicize decrees, instructions and inter-ministerial circulars so that laws can be adequately used.
Some also asked for an increase in the number of laws that have the death penalty, such as illegal logging, and wanted businesses that polluted the environment to be severely punished.
Increasing water and electricity prices at this time is not only unsuitable with the government's policy in preventing a recession but also hurts ordinary citizens, some said.
President Triet said that after receiving the complaints, the delegation should send them to relevant authorities, as well as improving methods for receiving complaints.
There are still many petitions that are resolved slowly or disappear, as the delegation is not closely following up, supervising and solving complaints, the President said.
In related news, Hanoi's National Assembly delegation oversaw plan management in the city.
Delegates said that Hanoi still has unplanned areas or has plans that are so out of date they are impractical.
The Hanoi Department of Planning and Architecture has proposed the city to choose 12 streets for new urban designs and improve construction work.
Some delegates expressed concerns about the timetable and feasibility of the city's plan.
Many areas and streets are planned to be upgraded but little development has happened for many years. Infrastructure has not improved and plans have been set but not put into action while people in those areas suffer, as they are unsure if it is worth repairing or building houses.