President Nguyen Minh Triet yesterday called upon the society to further promote the population control and family planning to secure the future prosperity and happiness of nation's families.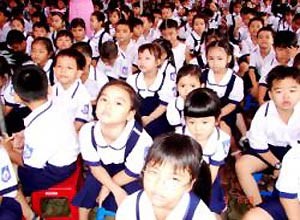 The country's current population is estimated at 86 million this year
Speaking at a meeting to mark Viet Nam Population Day, December 26, in Ha Noi yesterday, President Triet praised the nation and its people for making noteworthy achievements in family planning over recent decades.

People from all walks of life have become more aware of the importance of keeping population growth under control by implementing family planning and reducing family sizes.

Over the last 15 years, the country's annual population growth has fallen from 2 percent to only 1.3 percent.

But the country's family planning programs still face problems reaching the target of reducing the annual birth rate by 0.3 per thousand. This year's birth rate only declined by 0.25 per thousand.

Moreover, the nation's population density remains high, with the current population estimated at 86 million, three times higher than that in 1961.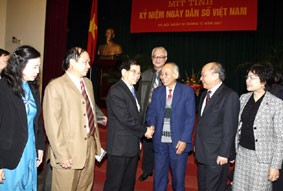 President Triet at the meeting in observation of the Vietnam Population Day in Hanoi on December 26
The modern family model of one or two children should thus be further promoted to limit the country's population to some 89 million by 2010 and improving both population quality and avoiding gender imbalance, said President Triet.

According to recent demographic surveys, the country is suffering from a gender imbalance in recent births, with about 110 boys born to every 100 girls. In some 16 provinces, the sex ratio at birth is 115-128 boys to 100 girls.