State President Nguyen Minh Triet said he was extremely pleased at the development of the Asia Commercial Bank (ACB) while visiting the bank on February 8, the sixth day of the Lunar New Year.
The bank has become the fifth largest bank in Vietnam's banking network and is one of the largest commercial banks in Ho Chi Minh City.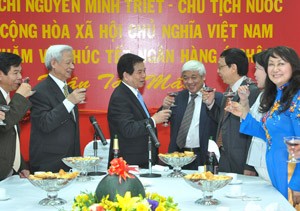 Vietnamese President Nguyen Minh Triet (3rd, L) toasts with ACB management on Feb. 8, 2011 in Ho Chi Minh City (Photo: Thien Thanh)
The President said he believed that with its advantages in capital and its professionalism, the bank would develop faster and stronger and gradually expand to penetrate regional and global markets.
In the context that producers are facing difficulties raising capital, President Triet asked the banks to ensure enough capital for production and business at reasonable interest rates, which will contribute to the country's development.
ACB President Tran Xuan Gia and General Director Ly Xuan Hai promised to turn ACB into the fourth largest bank in Vietnam in the next five years.
When visiting the Saigon Trade Cooperative, President Triet asked the business to open more new supermarkets, not only in urban areas but also in mountainous and remote areas, providing high quality goods at reasonable and stable prices.
The President also visited the Saigon Jewellery Holding Company and the Vietnam Export-Import Commercial Joint Stock Bank, wishing them a strong and sustainable future.
Later the same day, Deputy Permanent Prime Minister Nguyen Sinh Hung visited the Agriculture and Rural Development Ministry in Hanoi.
On behalf of workers in the agricultural sector, Minister of Agriculture and Rural Development Cao Duc Phat thanked the Deputy PM, saying the sector will do its best to achieve a yearly growth of 4.5-5 percent in production value with an output of 39 million tonnes of rice, while ensuring enough rice for domestic use and 6 million tonnes for export.