President Truong Tan Sang has asked the Vietnamese coast guard and fisheries surveillance forces to continue their fight to force China to withdraw its oil rig, which is illegally standing in Vietnam's waters, and to ensure safety for Vietnamese fishermen.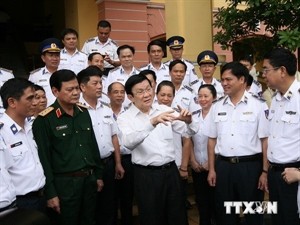 President Truong Tan Sang meets wirth Vietnamese coast guard, fisheries surveillance forces (Photo: VNA)
Visiting the forces on July 1, President Sang was updated with the latest developments of the East Sea situation following China's illegal placement of its Haiyang Shiyou-981 rig deep inside Vietnam's exclusive economic zone and continental shelf in early May.
He was also informed of difficulties Vietnam's law enforcement forces face at the site as from the date, China's armed vessels have continuously fired high-power water cannons at and intentionally rammed against Vietnamese public-service and civil ships, causing damage to many boats and injuring many people on board.
The leader urged the forces to continue their communication activities to make the Chinese side understand its wrongful acts, while making clear the justice and tolerance of Vietnamese people.
He affirmed that in any circumstances, the Party and State always create favourable conditions for the law enforcement forces to enjoy good living standards and provide them with necessary and modern equipment in order to fulfil their tasks.
A representative from the forces said that in face of China's aggressions, they still continue their work against sovereignty violations.