The President's Office on December 13 made public new laws on domestic violence, chemicals, personal income tax, infectious diseases and quality of products and service, following the National Assembly's passing of these laws last month.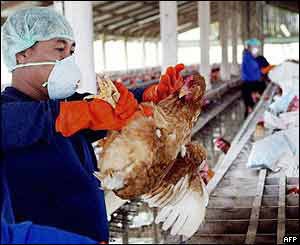 Chickens receive bird flu vaccination
The most noted legislation, the Law on Personal Income Tax, set to be effective in 2009, will subject to taxation personal income from wages and business profits in excess of 4 million VND per month (250 USD) at rates from 5-35 percent.

Dividends and interest income will be subject to a 5 percent tax; lottery winnings, 10 percent; royalties, 5 percent; and inheritance and gifts, 10 percent.

Capital gains from stock investments, meanwhile, will be subject to a 20 percent levy, while real estate capital gains will be subject to a 24-percent rate.

Regarding foreigners subject to taxation, the law states that persons who live in Viet Nam for more than 183 days in a calendar year or 12 months consecutively are subject to pay income tax.

The Domestic Violence Law stipulates a public duty for every person to report cases of domestic violence to the nearest police station, People's Committee or community leader.

Person who commit acts of domestic violence are subject to both administrative sanctions, including restraining orders forbidding direct contact with the victim for up to four months, and, in the most serious cases, criminal liability.

The Chemicals Law aims to ensure that individuals and organizations engaged in chemical-related activities must ensure the safety of both people and the environment.

The new law also includes State policies for development of the chemical industry, which aims for the building of a modern chemical industry that focuses on development of high economic value and environmentally-friendly chemicals for the country's socio-economic development.

Under the term of the Infectious Diseases Law, if an epidemic were to happen, the authorized agency must in a timely manner make public precisely what has happened.
In case the epidemic spread widely and seriously endangered human lives and the country's socio-economic development, the authorized agency has to declare an emergency.

The law also prohibits any discrimination and stigma against infected people.

The Law on Product and Service Quality is anticipated to reduce the trading and production of fraudulent products.

Except for the Individual Tax Law, all the remaining laws will come into practice in July 2008.