The domestic press has played an effective role in the country's fight against corruption, said Deputy Prime Minister Truong Vinh Trong in a conference on combating corruption held yesterday.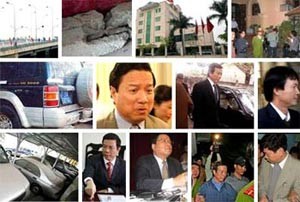 PMU18 scandal, a corruption case discovered by the press
The conference was held by the National Steering Committee on Corruption Prevention and Control and representatives from government agencies managing the press.

In his closing speech, Trong stressed that if it were not for the media's efforts in exposing corruption, the committee could not have made most of the achievements it has to date.

According to Vietnamese Journalists' Association (VJA) Deputy Chairman Le Quoc Trung, the local media have taken the initiative in the battle against corruption and no victory against corruption or other negative phenomena have not involved the local press' proactive participation.

Trung warned that all local new media must also beware corruption inside their own organizations and any reporter who is working against corruption should be given protection, appreciation and good conditions to carry out their jobs.

Deputy Prime Minister Trong said the committee is to provide more information on corruption cases to the press and three regulations will be signed to promote cooperation between the committee and local press in the anti-corruption fight.

However, the deputy prime minister added that reporters should also work to make their reports on corruption more accurate wherever possible.

Trong added that press agencies should not forget to pay more attention to examples of people doing good deeds and those contributing to the fight against corruption, so that good can overwhelm bad. 
Over the last three years, the number of anti-corruption articles with precise information reached 95 percent, a reporter said.
Vietnamese police detected 584 corruption cases involving 1,299 officials embezzling some VND865 billion (US$54 million) in 2007, according to a report recently released by the National Police Bureau of Criminal Investigation into Corruption.