Prime Minister Nguyen Tan Dung called for measures to control markets and punish any breach of price regulations, especially for essential goods.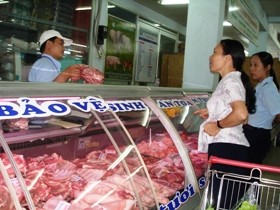 Customers buying pork at a supermarket in HCM City. PM Nguyen Tan Dung has urged relevant agencies to strengthen price controls, especially for essential commodities.
In a dispatch issued February 20, the PM urged local authorities and relevant ministries to focus their efforts on controlling prices, the fight against counterfeit goods, poor-quality goods and foods that do not meet hygiene and safety standards.
He also called for steps to prevent speculation and raising prices to gain illegal profits.
The country's economy, this year, is expected to face more difficulties than in 2008, the PM said.
Along with solutions to tackle problems faced by the economy, in order to maintain reasonable economic growth and ensure social security, the government has adopted regulations to control prices based on a market mechanism, particularly for major commodities that greatly influence production and people's lives, such as oil, electricity, coal and others, he said.
To stabilize prices, as one solution to prevent recession, Mr. Dung asked the Finance Ministry to coordinate with relevant agencies and authorities to reinforce price controls to protect consumer rights and interests. Severe punishments should be imposed on those violating price regulations, he added.
He also asked the Ministry of Health to tighten regulations on pharmaceutical prices, preventing illegal increase in prices. Any infringements on medicine prices and quality must be punished.
Meanwhile, the Ministry of Agriculture and Rural Development must ensure the supply and the quality of fertilizer, seeds, cattle and pesticides, he said.
All local governments must step up market controls to maintain stability in the market and punish any infringements, he asked.
Saigon Petro cuts oil price by VND500

Approved by the Ministries of Industry and Trade, and Finance, Saigon Petro on February 20 cut its oil prices by VND500 to VND11,500 ($.066) per liter.

The cut was made following the Ministry of Finance's call for leading providers of petrol and oil to reduce prices in response to a decline in price of oil, starting from late last month.

Saigon Petro is the first to respond to the call. Petrolimex was previously the first off the blocks in increasing or reducing oil prices, which has up to 60 percent of the petrol and oil market.
HCM City's CPI ups
Regarding the consumer price index (CPI) in HCM City, Du Quang Nam, head of the city Department of Statistics, said that the CPI in February increased by 1.31 percent from January.

February's prices have made the CPI for the first two months of this year rise by 1.35 percent. This rate is far lower than the 5.18 percent for the same period last year, said the Department.