There are significant obstacles to overcome before the recently announced program to teach English from the 3rd grade onwards as of 2010 can be implemented smoothly.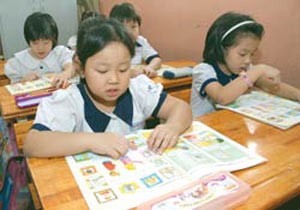 Pupils of Phan Dinh Phung Primary School study English in their class (Photo: SGGP)
Dr. Nguyen Loc, deputy director of the National Institute for Education Strategy and Curriculum Development, says the program will be applied only to 20 percent of primary schools in Viet Nam in the trial period in early 2010.  
These schools will have to teach the language for two periods every day for each class, have well qualified and education teaching staff and enough materials including textbooks and other teaching aides.   
However, Dr. Loc emphasized, most domestic primary schools hardly met these requirements.  
"Currently, if we add four hours of study for English per week, the whole primary study period will increase from 700 to 1,155 hours. To do this, the primary schools have to hold classes for a full day. But, as estimated, at present, only 30-40 percent of primary schools are holding full-day classes. Moreover, the English teaching staff at most schools do not have sufficient training, and schools lack official textbooks. All these are problems that have to be solved.   
"English has been taught in some primary schools since a few years ago, but these were a consequence of parental demands. So the program was limited to some schools where there was demand, and the textbooks used were not complied by the ministry in accordance with specific educational standards. In addition, the English teaching staff in these schools did not satisfy all the requirements of the ministry. Therefore, this did not have the expected success." 
Responding to a query about primary students finding it difficult to deal with the expanded syllabus, Dr. Loc says: Vietnamese schools are teaching the same amount of knowledge as international schools in only half or two-thirds of the time. Obviously, our students feel overloaded now. So when the new program is applied in the schools, priority will be given to change the hours of study from one to two periods in a way that time-related stress is reduced."  
In the trail period, the ministry will not force the schools to adopt the program. It will be done on a voluntary basis. Any school eligible can submit its application or proposal to the ministry. 
While Ho Chi Minh City has taken the first steps in this program, Hanoi and Danang are going to do this in the near future. The Ministry of Education and Training expects the program to reach schools in remote areas within eight years of its debut.  
"Though the secondary or higher levels have 60,000 teachers majoring in English, the teaching staff at the primary level is still limited, both in quality and in quantity. As a result, the ministry has required the universities which have English major programs and University of Pedagogy to contribute with both quality and quantity of graduates towards making 1,700 teachers available in 2010, and to increase this by 2,600 teachers per year from then on," Dr. Loc says.
Related article:

English to be introduced in primary schools