Prime Minister Nguyen Tan Dung has pledged to take full responsibility of the use of official development assistance (ODA) funds to ensure they are used effectively.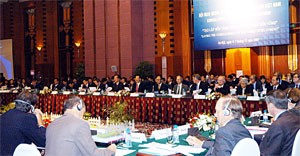 The Consultative Group meeting kicks off in Ha Noi on Dec 6
He made the guarantee on behalf of the Government at the opening session of the Consultative Group (CG) meeting in Ha Noi on December 6.

The Government leader said he appreciated the international community's, especially donors', great assistance and enormous contribution to Viet Nam's socio-economic development.

"Over the past 15 years since 1993, donors to whom all of you present here today have always stood side by side with Viet Nam during the country's socio-economic reconstruction and development, even when you, the donors, faced difficulties," said PM Dung.

He said Viet Nam is confronting numerous challenges such as the national economy's low competitive edge, the need for human resources to meet market demands, and complicated administrative reforms and the battle to beat corruption.

Viet Nam, therefore, calls for stronger assistance from the donor community, especially in infrastructure construction, high-grade human resource development, legal strengthening, management capacity and poverty alleviation, to meet its goal to become a modern industrialized economy by 2020, the Government leader said.

For his part, World Bank country Director Ajay Chhibber lauded Viet Nam's reforms efforts. He said "The story of Viet Nam's development has been remarkable" despite "a series of shocks".

He said the country has managed to achieve inclusive growth, while avoiding the kind of inequality that has plagued other countries as they moved from a planned to a market economy.

He advised Viet Nam to welcome the "opportunity to learn from those who have already trod the path to development, should they hope to maintain sustained development".

The country director also called for further investment in hard and soft infrastructure, especially in transport.

"There is a huge challenge to be met in ensuring that hard infrastructure needs are met. Roads, trains, ports and electricity generators are all of critical importance to sustain economic growth," Chihibber said.

"Please be assured that as partners we will be here to support you as you take this great nation forward, and bring the fruits of development to the people of Viet Nam."

The annual CG meeting this year will run for two days till December 7 as a forum for the Government and institutions of Viet Nam and international donors to discuss challenges and difficulties faced by Viet Nam.

The CG meeting this year is focusing on the challenges and plans for socio-economic development for 2008 and the years to come, as well as progress in WTO commitments, public administrative reforms and the Government's battle against corruption.

The Ministry of Planning and Investment (MPI) reported that ODA commitments to Viet Nam hit a US$4.45 billion record in 2007, representing an increase of more than US$700 million from 2006.

Since 1993, which was marked with ODA resumption, donors' commitments to Viet Nam reached more than US$33.5 billion up to 2006.