Prime Minister Nguyen Tan Dung has called on Chinese businesses to fully exploit the present favorable conditions to promote trade and investment ties with their Vietnamese partners.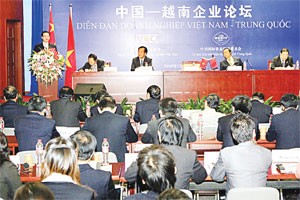 Prime Minister Nguyen Tan Dung talks at the Viet Nam-China Forum
The PM made the request at a Viet Nam-China Business Forum here yesterday during an official visit to the neighboring country. The forum was attended by representatives from more than 400 companies from both countries.
The PM praised the joint efforts of the China Trade Promotion Committee and the Viet Nam Chamber of Commerce and Industry in organizing the forum.
He highlighted Viet Nam's potential for attracting foreign investment, saying that foreign-owned enterprises were an integral part of the Vietnamese economy.
PM Dung used the occasion to clarify several issues raised by Chinese businesses about Viet Nam's measures to curb inflation. He also spoke on a range of investment incentives on offer for Chinese companies, including power projects.
Later, he witnessed the signing of several deals between Vietnamese and Chinese businesses, including a framework agreement on cooperation between the Viet Nam National Oil and Gas Group (PteroVietnam) and the Chinese Merchants Group.
He also witnessed the signing of a memorandum of understanding on coal exploration in the Song Hong (Red River) Delta between the Viet Nam National Coal and Mineral Industries Group, the China National Coal Group and Bantry Bay Ventures Asia.
Other agreements included one for comprehensive cooperation between Viet Nam National Shipping Lines and The Chinese Merchants Group, and other, in principle, to build a factory producing clean materials in Thanh Hoa Province between PetroVietnam and the XinAo Group.
Earlier yesterday, the Prime Minister attended the eleventh Asia-Europe Business Forum, which was attended by more than 800 businesses from both regions.
In an address to participants, he said one of the most important measures to help the global economy overcome its present difficulties was to strengthen public-private partnerships.
He said the Government of Viet Nam promoted a State-people partnership by encouraging different forms of ownership, equal competition and investment by both domestic and foreign investors in socio-economic development, particularly in infrastructure, labor-intensive and hi-tech projects, education, health care, sports and tourism.
The PM said the Government was putting the finishing touches to a legal framework of international standing to stimulate the private sector's vast potential and to facilitate the operations of foreign investors.
He said this would be done through the application of build-operate-transfer (BOT), build-transfer-operate (BTO) and build-transfer (BT) to all areas of infrastructure development.