As per a proposal submitted by the Ministry of Agriculture and Rural Development (MARD), the Prime Minister gave the go-head on Thursday to some families in the southern province of Binh Duong to continue raising 41 tigers.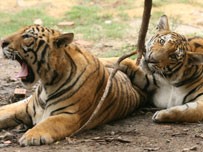 Tigers are raised at Beer Company
In the proposal, the MARD said that while raising the tigers is considered illegal under Vietnamese law, the tigers are being kept in the open and are in good condition. Furthermore, the state has no facilities in which to keep the animals.
The Prime Minister agreed to let the families continue to raise the tigers under surveillance on a trial basis. The families will also have to officially register with the MARD.
Officials with the MARD and the People's Committee of Binh Duong will instruct the families on safe breeding techniques and will publicize issues pertaining to Vietnamese breeding laws and related international conventions.

Related article:
Beer Company Director Allowed to Continue Breeding Tigers