Prime Minister Nguyen Tan Dung met with the prime ministers of Singapore , Malta , and Poland and the Finnish president in Beijing on Oct. 23 during his visit to China.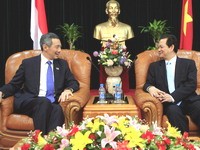 Prime Minister Nguyen Tan Dung receives Singapore's Prime Minister Lee Hsien Loong
Both Singaporean Prime Minister Lee Hsien Loong and PM Dung said they were happy that relations between the two countries had developed in many aspects, adding that they appreciated cooperation mechanisms between the two nations, especially a framework agreement linking the two economies.
They informed each other about the situation in each country, and exchange opinions on measures to cope with the present financial crisis.
They discussed how to consolidate financial and banking systems in each nation, implementation of the Chieng Mai Declaration and coordination with the World Bank, International Monetary Fund and Asian Development Bank.
The two leaders emphasized the importance of supervising fluctuations in the stock market, and attached much importance to strengthening the confidence of investors and the people.
Meeting Maltese Prime Minister Lawrence Gonzi, PM Dung said he wished more Maltese enterprises would do business with Vietnamese partners.
PM Gonzi said he supported Vietnam 's proposal to be recognized by the European Commission as a country with a market economy.
PM Dung told Polish Prime Minister Donald Tusk that the two sides should boost disbursement of credit worth US$300 million that Poland would supply to Viet Nam .
The Polish leader said he supported Vietnam in its relations with the European Union and in negotiations to sign a Partnership and Cooperation Agreement.
At the talk with the Finnish President, Tarja Halonen, Mr. Dung said he appreciated the development assistance that Finland had given Viet Nam .
President Halonen said Finland would develop equal partnership with Viet Nam and continue to give development assistance.