Prime Minister Nguyen Tan Dung has asked cabinet members and local authorities to take concrete steps on thrift and cuts in public investment as measures to curb inflation.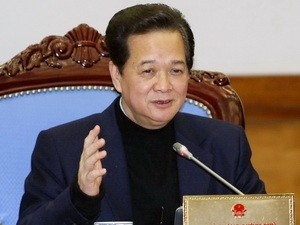 Prime Minister Nguyen Tan Dung at an online meeting between the cabinet members and local administrations on March 18
The Government leader released the order at an online meeting between the cabinet members and local administrations on March 18, deliberating measures for inflation control, stabilizing the macro-economy and ensuring social security.
Dung asked the Ministry of Planning and Investment and the Ministry of Finance to release exact figures on public investment cuts and decreases in budget spending by ministries, industries and local administrations to meet the target of 10 percent savings.
The Ministry of Industry and Trade was asked to implement the oil and gas pricing policy in line with market mechanism, along with tight supervision of general market prices.
Other measures for inflation control included the Central Bank's strict management of credit debts, decrease in money supply to reduce M2 and to keep the annual credit growth rates under 20 percent. In other words, the banking system should control interest rates of both saving deposits and lending, while priority for loans should be focused on production, Dung emphasized.
He also showed a firm position in weeding out illegal foreign exchange transactions, while ensuring a good supply of hard currency to meet demand for imports of essential production components and the legitimate demand of ordinary people.
The Prime Minister concluded by urging ministries, agencies and local administrations to focus on increasing competitiveness of each and every product and the entire economy as well.
Great efforts should be made to develop agricultural production, boost exports and curb imports, he emphasized.
In the first quarter of 2011, Vietnam recorded a GDP growth rate of almost 5.5 percent, of which industrial production grew by 14.7 percent, exports 31 percent and services by 6.2 percent.
As a result, tax collection increased by 17.6 percent.
Foreign exchange transactions were placed under full control while foreign exchange rates were adjusted flexibly, leading to a sharp surge in foreign reserves at commercial banks and stabilization of forex rates. The gold bar market has been gradually stabilized, making domestic prices closely follow the global market.
Public investment has also been strictly monitored by ministries, industries and local administrations. Hanoi, for example, cut VND280 billion (roughly US$13.44 million) in public spending and over VND 700 billion in public investment in the first quarter of 2011. The northern Hai Phong port city saved over VND37 billion, and cancelled some unnecessary projects with a combined investment of VND153 billion.