Prime Minister Nguyen Xuan Phuc on September 11 visited the Nanning Yucai School in Guangxi, China, which trained Vietnamese students and cadres from 1951-1954.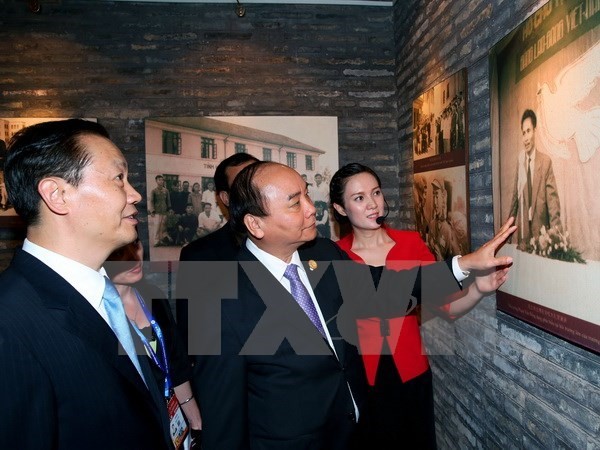 Prime Minister Nguyen Xuan Phuc visits the Nanning Yucai School in Guangxi, China (Source: VNA)
The PM is in Guangxi to attend the 13th China-ASEAN Expo (CAEXPO) and China-ASEAN Business and Investment Summit (CABIS) which began earlier the same day.
In the early 1950s when the resistance war against the French neared victory, the Vietnamese Party and State needed to train a staff of cadres for the next stage of the Vietnamese revolution.
The then President Ho Chi Minh suggested his Chinese counterpart Mao Zedong build a school training Vietnamese revolutionary cadres on the outskirts of Nanning city, Guangxi.
The Chinese constructed the school in 1951 and provided advice and logistics services while the Vietnamese side was in charge of management and training.
The first group of 257 Vietnamese students were sent to the school, including 101 revolutionary cadres.
In 1954, the school was moved to the western campus of the Guangxi University and in September 1957, it was relocated to Vietnam.
During its existence, the school trained about 7,000 cadres, teachers and students, many of whom then became high-ranking officials and well-known economists, scientists, musicians and writers.
The Vietnamese Government presented Labour Orders to the schools' officials and teachers of Chinese language in November 1963.
Later the same day, PM Nguyen Xuan Phuc toured the Bagui Tianyuan high-tech agriculture zone in Guangxi.
Established in March 1999, the 100,000 sq.m zone is the most modern and largest centre of training, research and high-tech agriculture in Nanning city.