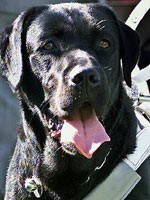 A professional dog
Ha Noi's Police today officially put the Professional Dog Managing Unit (PDMU) into operation. This unit is responsible for training and using professional dogs to ensure social order and security.
The unit is operating under direct control of the Ha Noi Police Department's Bureau of Guards and Legal Assistance.
The PDMU has set up and conducted 24 protection plans, carried out 10 anti-terrorist drills, used 50 turns of professional dogs for 25 security patrols, and caught 3 criminals.
An immediate key mission of the unit is to join a special force to ensure security for the APEC Summit 2006 and the conference of Southeast Asian Games.