The Committee for Ethnic Minorities is drafting a circular on the second stage of the Poverty Alleviation Program 135, to be issued this August in an effort to reduce poverty and raise the living standards of ethnic minorities.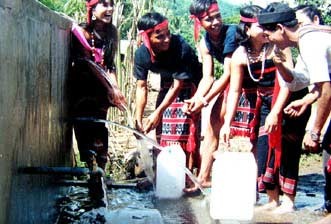 Supplying clean water is part of Program 135 for ethnic minority groups (Photo: VietnamNet)

According to Mr. K'sor Phuoc, Minister-Head of the committee, the circular was initially approved by ministries, except for two articles concerning the management and planning of project design and construction, and compensation policies for inhabitants in cases of natural disasters and epidemic.
It has not been decided whether the government will front the aid or if assistance will come from the fund of Program 135.

The program's second stage will see some changes. All the small-scale works capitalized at less than VND300 million will be taken over by commune's authorities to manage the investment.

As for provincial investment, the government will decide upon an initial average amount for communes. Later, the provincial authorities will consider which communes need more investment based on their development.

Talking with the Sai Gon Giai Phong reporters, Mr. Trang A Pao, Chairman of the National Assembly's Council for Ethnic Minorities, said the program's second stage aims to spread investment to every village, hamlet and household.

The government will build roads from communes' center to villages, support households to build clean water reservoirs and supply power to every village and household.

He also accepted that the danger of relapsing into poverty caused by incomprehensive investment will still exist in phase two just as it did in the first stage of the program .