The heat wave sweeping across the central and central highlands has withered thousands of hectares of sugarcane, coffee, and rice crops.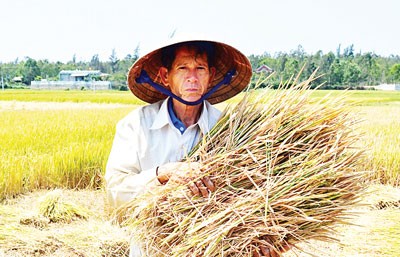 Vast rice areas have been withered due to long lasting drought in Quang Ngai Province (Photo: SGGP)
Binh Son District in Quang Ngai Province has lost 252 hectares of rice. Several farmers have fed the withered crops to cattle.
Because it has not rained for a month, we are forced to pump water from ponds every two days to water our crops, said farmer Doan Tan Minh.
Thach Ban reservoir level has fallen to 17 meters, 1.5 meters lower than last year in Duy Xuyen District, Quang Nam Province.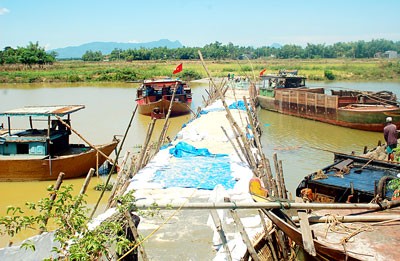 The embankment built on Vinh Dien River to prevent salt intrusion in Quang Nam(Photo: SGGP)
The Tu Cau pumping station in Dien Ngoc Commune, Dien Ban District has experienced salt penetration in the previous 10 days which is ruining the 100-hectare rice field.
Quang Ngai has spent VND7.1 billion (US$337,000)  to dredge canals, install more pumping stations, and dam up embankments to prevent salt intrusion.
Similar measures have also been conducted in Quang Nam Province. Local authorities have spent VND1.7 billion (US$ 81,000) to dam up the embankment on Vinh Dien River to hold saltwater back.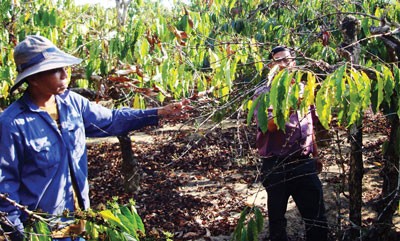 Coffee fields are short of irrigation water in the central highlands (Photo: SGGP)
The embankment is expected to complete by March 20 to provide water for Vinh Dien Water Plant and thousands of hectares of rice. The plant has stopped operation for the last month creating a water shortage in thousands of households.
Several mobile pumping stations have functioned along Thu Bon River to supply water for fields away from canals.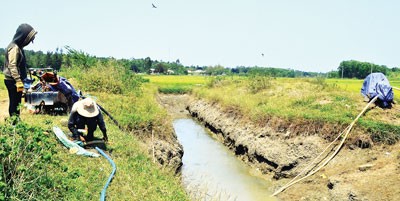 Farmers install mobile pumps to water their rice crop in Binh Son District, Quang Ngai Province (Photo: SGGP)
In the central highlands, farmer Tran Anh Tuan's family has desperately carried each pail of water to irrigate their coffee field in Dak Ha District, Kon Tum Province.
Farmers are unable to complete cultivation of the winter spring crop due to water shortage in An Khe town, Gia Lai Province.
The drought has killed nearly 700 hectares of rice and maize plants in Dak Lak Province. Another 1,500 hectares are in danger of complete loss. Total damage caused by drought has reached VND40 billion (US$1.9 million).
Thirty seven provinces are in danger of forest fire with the most vulnerable being Binh Phuoc, Dong Nai, Khanh Hoa, Gia Lai, Kon Tum, Lam Dong, Son La and Tay Ninh, according to Forest Management Department under the Ministry of Agriculture and Rural Development.
Related article:
Severe drought hits southern, central regions