Mr. Le Hoang Quan, chairman of the Dong Nai River Basin Protection Committee and chairman of HCM City People's Committee, talked with Sai Gon Giai Phong about committee's future tasks yesterday. The committee, set up to realize the Prime Minister's decision to protect the Dong Nai River basin, will be officially inaugurated today Dec. 12  in HCM City.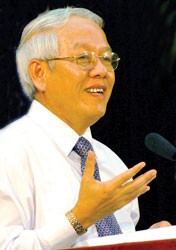 Mr. Le Hoang Quan
Mr. Quan, former secretary of Dong Nai Provincial Party Committee, and chairman of HCM City People's Committee, emphasized the importance of the Dong Nai River system in the socio-economic development of cities and provinces in the region. It is a source of drinking water for millions and provides water to industrial parks, agricultural irrigation and aquafarms for 12 cities and provinces in the basin.

Self-purification capacity at the source and middle-sections of large rivers is high, with recent tests showing that water quality is good. However, lower sections are suffering from severe pollution. To deal with this problem the committee was formed to facilitate the coordination and cooperation between cities and provinces in the region.

The committee is tasked with outlining the project to protect the basin and give guidance to city and provincial authorities.

The committee will make proposals to relevant authorities for making or amending environmental protection policies. The committee will also build a database of resources and environment issues in the basin and mobilize funding for the project from international and local agencies, organizations and businesses.

At present, the project needs VND2 trillion ($118m) which will be used to develop 16 key projects including water protection regulations, building a network of testing water quality and building wastewater treatment plants.

The funding will partially come from state and local budgets, and centers of production or trading enterprises within the region. The remaining will funds will come from national and international organizations, agencies and individuals.